Published on 29 August 2011
How Conde is overhauling the mining sector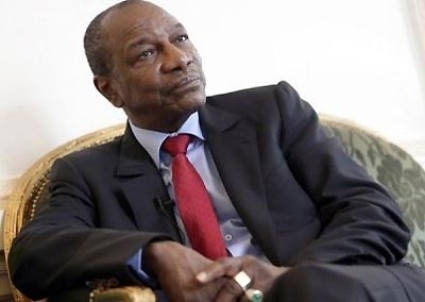 Sworn in as Guinea's president late last year, the former political dissident, Alpha Conde, has made "re-founding the Guinean nation" the leitmotif of his presidency. In the mining sector, that has meant setting out to change mining legislation and giving the government a majority stake in the businesses of each company. For their part, the mining groups are finding it hard to make contact with the new Guinean leader and to air their grievances. But with solid backing within Guinean society Conde knows he can count on his many connections to support his stance.
This article may be accessed by subscribers and e-wallet holders (EUR 29)
Log in to read more
---
A free issue and a selection of free articles
Summaries and email notifications
Gold output plummets
Guinea's government isn't profiting from higher prices on the world's [...]
Conde forced to suspend mining code
Adopted on Sept. 9 by the National Transition Council and promulgated the same day by the president, new mining legislation [...]
Rio wants to transport Simandou iron by truck
A new bone of contention may have sprung up between Rio Tinto/Simfer and Guinea concerning the Simandou iron ore project. Since early this month Rio Tinto's experts have been in Conakry to negotiate an accord on carrying out ore by [. [...]
Ministry rebuffs feasibility studies
Companies operating in Guinea's mining sector have submitted a raft of projects for feasibility studies to the country's mines and [...]
Fofana picks his team
The circle of former mines minister Mahmoud Thiam is getting [...]
Mount Nimba's ore to be shipped out via Liberia?
Guinea's government is going to begin talks with the EuroNimba consortium about a plan to carry out Mount Nimba's iron [...]
Mining Code slammed
The GIM consultancy staffed by around 20 former ministers and [...]
All the president's men, and mines
Mining companies operating in Guinea are coming under growing "administrative" pressure. Early September, a few days before the voting of the new mining code, president Alpha Conde, threw a spanner of sorts into the management of companies involved in mining [. [...]
Morcire Sylla
President Alpha Conde made a number of appointments to the mines ministry on Sept. 7, a few days before the [...]
Aboubacar Kagbe Toure
Free
On Sept. 2, Guinea president Alpha Conde confirmed Aboubacar Kagbe Toure in the highly coveted post of deputy managing director [...]
Conde locks up mining sector
A mere blueprint before this summer, reforms of Guinea's mining sector speeded up in August with prodding from president Alpha [...]
The battle to modify mining code
The issue of revising Guinea's mining legislation (AMI 253) has turned into a battleground for government officials. Aides close to [...]
Mining companies still under pressure in Guinea
The election of president Alpha Conde six months ago did [...]
RusAl a re-run of Rio Tinto affair?
Relations between president Alpha Conde and the Russian group RusAl seem to be souring, much as they did between Conakry [...]
Conde's family ties to mining industry
Although elected president only six months ago, Alpha Conde has long had connections with the mining industry, particularly through his family.Along with farming, mining ranks as Guinea's big money-spinner. As soon as he came to office, Conde named one of [. [...]
Guillaume Curtis
A delegation from Guinea headed by the secretary-general of the country's mines and geology ministry, Guillaume Curtis (who is also [...]
Civil Society demands explanations
The Association Guineenne pour la Transparence, chaired by Mamadou Taran [...]
Tug of war between Conakry and gold miners
A fervent supporter of Alpha Conde in the presidential election, the Association des Groupements des Orpailleurs de Guinee (AGOG) is [...]
Nationalisation in store for Guinea?
The office of Guinea's president has just completed drafting a new mining code (No.06/PRG/mccm/2011) that replaces a code drawn up [...]
New tribulations in sight for RusAl
The Russian concern RusAl is in a tizzy in Guinea following the announcement that a Chinese group plans to build [...]
Deal with Rio Tinto increasingly under fire
A "transactional" accord signed between Rio Tinto Mining Exploration (RTME) and Guinea's government on April 22 to resolve a dispute [...]
Conakry pins hopes on Bellzone Mining
The British company Bellzone Mining, a much-prized partner of China's overseas development program in Guinea's mining sector, has opened an [...]
China striking out on new projects
China International Fund's tribulations in Guinea. (see above) don't seem to have led China Power Investment (CPI) to rein in [...]
Rio Tinto's friends talk Conde around
Saved by the bell on Feb. 23 when president Alpha Conde finally agreed to extend its exploration license on two [...]
Christian Sow
The Rusal group has managed to preserve its strong connections in Guinea even though the country is now being governed [...]
Misunderstanding over Kankan-Conakry railway
The operations of BSG Resources Guinea are being scrutinized by the government formed by Guinea's new president, Alpha Conde. With [...]
Mines minister with a past in oil
The mines and geology portfolio in Alpha Conde 's new [...]
February a make-or-break month for Rio Tinto
One of the key issues facing the new mines minister, Mohamed Lamine Fofana, concerns a project to develop the Simandou [...]
How Soros is backing new leader
Free
According to Africa Mining Intelligence's sources, Guinea president Alpha Conde called on billionaire George Soros early this month for assistance [...]
Conde says his election marks "re-birth of Guinea"
The inauguration ceremony of president Alpha Conde on Dec. 21 in Conakry provided an occasion for several bosses of mining [...]