Published on 13 July 2017
China reveals the true intentions behind its naval base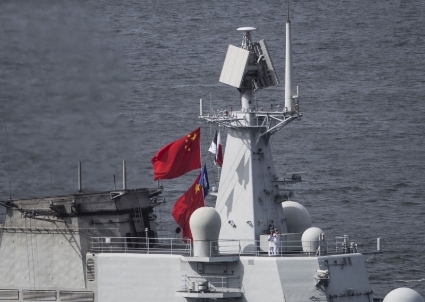 Iniated two years ago through discreet personnel transfers, as revealed by Indian Ocean Newsletter as early 2015, an established presence of the Chinese navy will soon be a reality. On 12 July the state agency Xinhua announced that a military asset had set sail from the port of Zhanjiang, headed for Djibouti. Officially, the Chinese facility is merely a logistics base but, as Indian Ocean Newsletter has been reporting for some time, it is in reality a military and intelligence platform.

Actively supported by the Djibouti government, this facility is a cause of considerable concern to Western contingents already present in the country, not least the Americans and the French, as well as to neighbouring countries such as Ethiopia, who fear that the arrival of the Chinese will further complicate the already explosive situation in the region.

This article may be accessed by subscribers and e-wallet holders (EUR 29)
Log in to read more
---
A free issue and a selection of free articles
Summaries and email notifications
Japan won't let Bab-el-Mandeb go to the Chinese
At a symposium on Japan's defence policy organized by the [...]
China-US cold war in Red Sea
Electrified by Beijing's militarisation of the South China Sea, tensions between China and the United States have now spread to the Red Sea. To be sure, Beijing is working hard to cement its presence in the region and expand its [. [...]
Chinese offer Russia a corner of their base
A new iron curtain is being drawn across Djibouti. Beijing is building its own military enclave, just a stone's throw from the US military base. [...]
CCECC and GHDC building Chinese military base
The construction of the Chinese military base in Djibouti has [...]
Will the Chinese army double its manpower?
While the Djibouti government and media can wring their hands over bolstering military cooperation with China, the Deputy Chief of [...]
Chinese military establishment takes shape
Four Chinese military aircraft recently landed at Ambouli International Airport, bringing in a new contingent of Chinese soldiers, consisting of [...]
US Senators denounce Chinese influence
The Republican senators for California and New Jersey, Dana Rohrabacher and Chris Smith, both members of the Foreign Affairs Committee, [...]
The Chinese military lands
In the night of February 2 to 3, a first contingent of nearly 300 Chinese troops and marines landed in [...]
Chinese military base in return for loan rescheduling
The ministers of foreign affairs, Mahmoud Ali Youssouf, and finance, [...]
Free trade zones to be vacated to make way for Chinese army
Three weeks before the launch of the official campaign for the presidential election on 25 March 2016, President Ismaïl Omar [...]
Guelleh's Plan B if the French don't quit the Heron islet
Djibouti merchants and forwarding agents have been asked to leave the former free trade zone near the Djibouti's port. After [...]
How IOG is rolling out red carpet for China
Djibouti president Ismaïl Omar Guelleh, is actively preparing for Chinese to establish in Djibouti, both on the economic and military fronts. To do this, he takes no account of the American and French forces already stationed in the country and [. [...]
China ousts Americans from Obock
Djibouti has officially asked the United States to leave their military installations at Obock. "The Indian Ocean Newsletter" carries out an exclusive investigation. [...]
China on the agenda of Kerry - IOG meeting
The USA is wary that the Chinese navy could turn [...]