Published on 28 March 2014
End of Kenayatta and Ruto's honeymoon period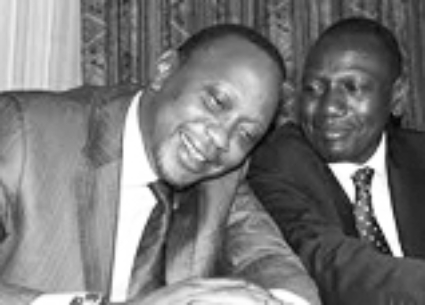 Ever since President Uhuru Kenyatta and Vice President William Ruto came to power a year ago, their main battle has been to try to delay their trial before the International Criminal Court (ICC). During this period, they have had to deal with problems at home getting steadily worse: crime and terrorist acts have grown steeply and the new institutions (county governorships and the senate) are in a muddled state, and so on.

Not only that, there has been infighting among the presidential staff to extend their prerogatives, leading to internal bureaucratic squabbles. It's no easy matter to keep election promises in a context like this, while also trying to rein in the public deficit.

In addition, corruption still looms as large as ever in the higher echelons of the civil service, fuelled by a good economic outlook, particularly in the energy sector. The overall record of this first year of Kenyatta and Ruto's five year term has turned out quite chaotic. Here is our overview.


This article may be accessed by subscribers and e-wallet holders (EUR 29)
Log in to read more
---
A free issue and a selection of free articles
Summaries and email notifications
Uhuru Kenyatta prepared to cooperate with ICC
His British lawyers Steven Kay and Gillian Higgins, of the [...]
Deputy President Ruto's friends angered
Supporters of Deputy President William Ruto are concerned that he might be the only person tried by the International Criminal Court, if charges are not brought against Uhuru Kenyatta. [...]
Paul Kagame pushes Uhuru Kenyatta to defy ICC
President Paul Kagame of Rwanda is encouraging his Kenyan counterpart Uhuru Kenyatta not to go to the International Criminal Court [...]
David Matsanga
The Ugandan expert in public relations David Nyekorach Matsanga, 54, who had already been consulted in 2011 by the partisans [...]
Will Uhuru Kenyatta go to ICC?
President Uhuru Kenyatta is caught between his political friends who are pushing him to boycott the ICC and his lawyers who tell him he has a strong case. [...]
Kenyatta and Museveni versus ICC
The respective advisors of Presidents Uhuru Kenyatta and Yoweri Museveni can't get over their surprise about how close these two Heads of State have grown over the last few months, given that relations between the leaders of these two countries [. [...]
One of Kenyatta's advisors is ill at ease
One of the advisors to President Uhuru Kenyatta, in charge of writing his speeches, is decidedly uncomfortable. [...]
Uhuru Kenyatta relinquishes reform of state-owned companies
President Uhuru Kenyatta invited Vice President William Ruto and the [...]
Kibaki places former advisors with Kenyatta
The former President Mwai Kibaki played a role behind the [...]
Vimal Shah
The wealthy Asian-Kenyan businessman Vimal Shah, who owns the oil manufacturing company Bidco joined the circle of advisors to President [...]
Uhuru Kenyatta on all fronts
In addition to his trial before the International Criminal Court (ICC), put back to February 2014, President Uhuru Kenyatta has to contend with internal political problems. [...]
Spotlight
KENYA
21/03/2014
Presidential duo in a shambles
After spending the first year of their mandate escaping the legal proceedings of the International Criminal Court (ICC), President Uhuru Kenyatta and his Vice President William Ruto now have to deal with a whole host of internal problems, such as [. [...]
Spotlight
KENYA
21/02/2014
Oil and mining firms do their networking
Since recent finds have put Kenya on the list of countries that could develop an oil industry in the next few years, the foreign companies interested are looking out for local people with good connections in the country's power circles. [...]
KENYA
UNITED KINGDOM
06/12/2013
Tentative hope at London forum
The UK-Kenya Trade & Investment Forum, which took place in London on December 3, put a business slant on Kenya's 50th anniversary of independence celebrations. [...]