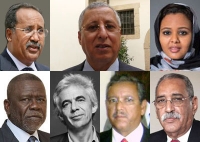 Mohamed Ould Bouamatou,
a self-made man who has become Mauritania's leading business man
After having begun his career as a modest seller of foodstuffs, 63-year-old Mohamed Ould Bouamatou has gradually established himself as a major business figure in Mauritania. His BSA group is present in all the key sectors of the country's economy, whether it be banking and insurance or the distribution of cigarettes, and is managed as a family affair, with the help of his tribal allies and a number of faithful associates.

In a country dominated by clan logic, his success has inevitably whetted appetites and provoked bitter conflict. Bouamatou found himself early on in the political sphere. He stays out of the limelight but little by little has found himself in the role of king-maker. The last one to benefit from his influence was a cousin who is currently the president of Mauritania, Mohamed Ould Abdel Aziz. After carrying out his coup in 2008 and acceding to the presidency, Abdel Aziz let his relations with Mohamed Ould Bouamatou deteriorate. The latter, who now lives permanently in Morocco, presents himself as supporting former head of state Ely Ould Mohamed Vall in the 2019 presidential elections. He will make his powerful Nouakchott contact network available to Mohamed Vall and his key political and media connections, including those in France. West Africa Newsletter details these intertwining networks in this new exclusive report.
The entire Insiders (3751 words) may be accessed by subscribers or e-wallet users
---
Not a reader yet?
Create an account
Create an account and test drive our offer
Subscribe
Each of these subscriptions
give you access to this article
AfricaIntelligence.com
West Africa Newsletter
Discover our offers
SPECIAL OFFER
25% OFF your subscription to AfricaIntelligence.com
Offer available until 20/08/2019